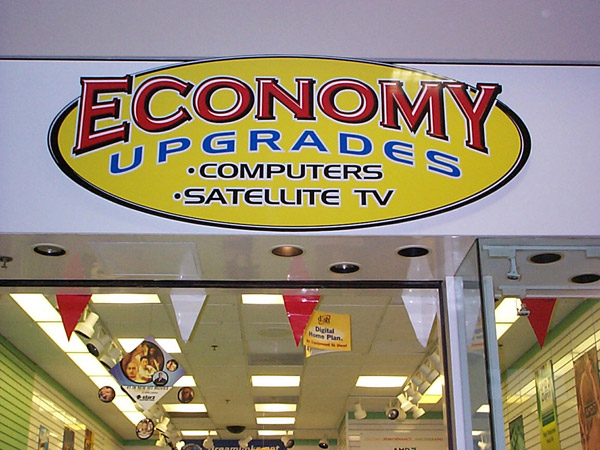 How customers view your business in Riverside, CA. is not just by a nice logo or a catchy marketing phrase… but rather a complete experience that effects whether customers will remember and choose to do business with you. This full experience should motivate everything you do; from signage to get them in the door to customer service that leaves them with an experience they will tell others. Precision Signs and Graphics not only desires to present this image to its own customers but, help you provide this same experience for your customers as well.
When taking this full experience approach to marketing in the Riverside CA. area, we look at some of the online research surveys to help get a better idea of how customers react to first impression item such as signage. One such survey was commissioned by FedEx Office, along with Ketchum Global Research & Analytics; measuring the impact of signage and its importance on potential customers. Additionally survey projects from the Economic Center, University of Cincinnati, measured the impact on businesses in multiple industries.
Call Precision Sign and Graphics today for Stunning Graphics at an affordable price! (951) 332-2700

The customer surveys mentioned determined customers that:
Nearly 76% of customers (8 in 10) identified they went into a business for the very first time, based solely on the signage. (FedEx)
Nearly 75% of customers surveyed said they had informed others about the business simply based on its sign. (FedEx)
Just about 68% of customers identify that the business signage reflects the quality of its services or products. (FedEx)
About 67% of the customers in their survey identified they made a purchase because a sign caught their eye. (FedEx)
Nearly 60% of customers surveyed stated that when a business has no sign it deters them from entering. (FedEx)
Just about 60% of businesses surveyed reported that updating the design or changing the visibility of their signs had positive impacts on sales, with the average about 10%. (UC)
Over 50% of customers surveyed stated that poor signage (e.g., faded, outdated or with misspelled words) kept them from entering a business. (FedEx)
Signage that was legible was identified by both businesses and customers as the most important characteristic of signs and advertising materials. (UC)
The survey results echo the trends and studies performed by major retailers such as McDonald's, Lowes, Chick-fil-A and Walmart who routinely study the science and psychology of advertising is much as investing in the branded image of their company. These four retailers, and many more, attribute their success to focused marketing and appropriate signage is key elements to their success. When combining the first impression of signage in Riverside, CA. with that of quality customer service, value-added service, product selection and retail price points based upon demographics you begin to present your customers with a total package or experience that will determine whether they will continue to do business with you or tell others about their experience (good or bad).When Experience Matters
Precision Sign and Graphics serving the Riverside, CA. area understands the importance of a first and continued impression with customers in the Riverside, CA. area. From our talented designers and experienced installers to our staff writers who have been in the marketing industry providing small business counseling and advice for over 10 years; we seek to provide our customers with a total quality experience that will not only keep them coming back for additional products and services but, have them tell their friends and business owners about the quality level of service that they received from Precision Sign and Graphics.
Useful Links
For more information or to contact us for a Free Quote: CLICK HERE
To find the answers to some of our frequently asked questions: CLICK HERE