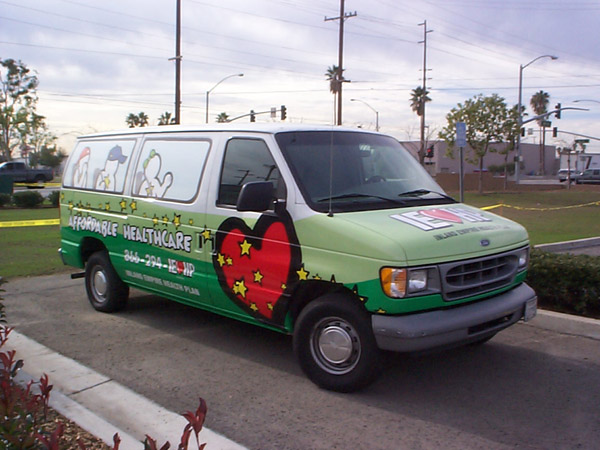 If you've had your vehicle fleet wrapped in the Riverside, CA. area you know the great benefits of having your fleet wrapped. With eye catching graphics branded to your business fleet graphics allows you to get your message out to the Riverside, CA. community just by driving around! However, if your vehicle fleet wraps have been on for more than five years sun fading and damage might actually be costing you business! Precision sign and graphics serving the Riverside, CA. area can provide you with cost-effective solutions for updating your vehicle fleet wrap.
Cost vs. Capability
Many of the accounts that we hear at Precision Sign and Graphics serving the Riverside, CA. community is when fleet managers went with the cheapest bid, rather than the best quality. While there is a balance to be struck, sometimes when vehicle wrap companies give you a significantly lower bid for your vehicle fleet wrap… there's probably a reason for it. This reason may be very apparent after just a year or two when realizing that substandard materials were utilized; lack of UV protection or materials that did not have the best adhesion capabilities often will show themselves within one to two years. Precision Sign and Graphics serving the Riverside, CA. community works with each of our fleet managers to determine cost factors with a detailed quote using industry-leading materials. While this may make our costs slightly higher than those using substandard materials the end result will be the return on investment (ROI) when needing to rewrap fleet vehicles every one to two years vs. every 5 to 7 years.
"I went with the best I could find at the time…"
Precision Sign and Graphics serving the Riverside, CA. community we have seen, and experienced, vehicle fleet wrap companies that utilize the best materials and have highly competent installers but lack in the graphic design department. Vehicle fleet graphic designers are very difficult to come by as it takes years of graphic design experience, marketing knowledge as well as hands-on trade education dealing with the variables of vehicle wraps. Sometimes, when working with sign companies, you get the best you can get; which sometimes leaves you lacking. Precision Sign and Graphics is pleased to be one of the Riverside, CA. area vehicle wrap companies that has available top-quality graphic designers, experienced installers and quality materials to make sure that your vehicle fleet wrap is simply the best it can be. Our designers consult with our customers to determine the level of design and graphics that they seek, while interjecting marketing experience; to make sure that the vehicle fleet wrap helps you present your message clear and loud to the Riverside, CA. area
Call Precision Sign and Graphics today for Stunning Graphics at an affordable price! (951) 332-270
Freshening up your Fleet
In a survey compiled and sponsored by FedEx they determined that nearly 50% of customers base their opinion on the quality that they will receive based upon the signage that they see. If your vehicle fleet has faded or damaged wraps it may be costing you business. Because vehicle fleet wraps, for many customers, is the first impression that they see of your company; making sure that they are updated and clean to help make that first impression a good one.
Resale Value
In the business world, sometimes it becomes necessary for businesses to sell. As identified in a previous article, fleet wrapped vehicles can significantly increase the value of your company when negotiating a sales price. However, faded or damaged vehicle wraps can actually result in a decreased value because the purchaser will have to calculate re-wrapping those fleet wrapped vehicles as part of their cost assessment.
Here is where experience really counts
Precision Sign and Graphics serving the Riverside, CA. area specializes in vehicle fleet wraps utilizing the highest quality materials with an eye towards branding. We understand the challenges small business owners and companies can face when choosing to re-wrap and freshen up their vehicle fleet to their advertising budget. The adage that "you get what you pay for" really does ring true when dealing with fleet vehicle wraps. We work hard to work within your budget while still providing quality materials, high-end graphics and industry-leading installations when working with your vehicle fleet. Be sure to contact us to get your vehicle fleet wrap quote started today!
Useful Links
For more information or to contact us for a Free Quote: CLICK HERE
To find the answers to some of our frequently asked questions: CLICK HERE