For this customer spotlight it's not as much about what we've done, as what the possibilities are. The Haven City Market is in the process of converting an old JC Penny shopping store in Rancho Cucamonga into an eclectic, new age food court. This type of forward thinking really gets us, at Precision Sign and Graphics, excited because this type of business can restore a building, a Plaza and a community.
The Vision
When a group of investors from Orange County California were looking to convert an old JC Penny shopping store they knew that signage was going to be important. Part of a good marketing plan is to let the community around you know about a developing project to help build brand recognition and excitement around What is coming soon.
With this eclectic, new age food court these investors look to create a venue of high end cuisine establishments that will offer a variety of food concepts; all wrapped into a mall like setting. With an indoor park combined with many choices of food and drink establishments this is sure to become a central hub for the growing demographic seen in the Rancho Cucamonga area.
Precision Sign and Graphics in Riverside, CA is your local source for Banners, Signs, Vehicle Wraps and more.. Call us today! (951) 332-2700
Just Getting Started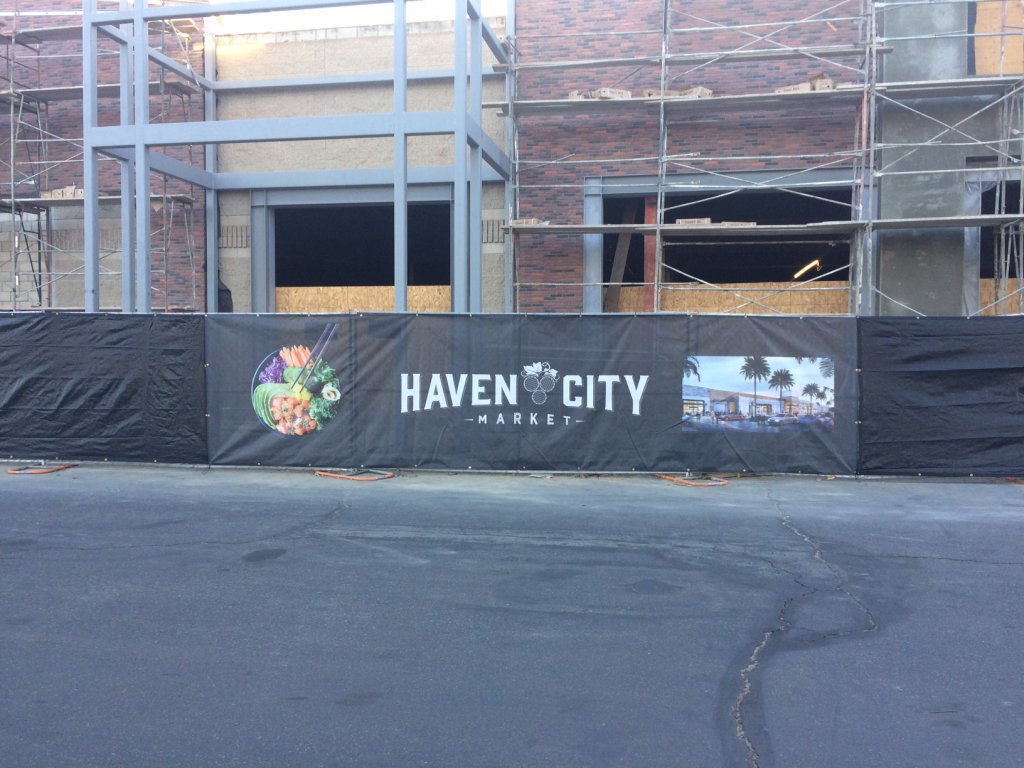 Precision Sign and Graphics , a Signworld Affiliate, installed over 300 feet of black mesh construction fence and six (6) 24′ custom printed fence banners to help them advertise for the Haven City Market located at 8443 Haven Ave Rancho Cucamonga, Ca and the long build ahead. By the time this eclectic, new age food court center opens in early spring, all the local residents and traffic that frequent the area will be well informed of the new trendy center in Rancho Cucamonga.
Trust Your Local Experts
With the number of different vendors and special vendor pricing, Precision Sign and Graphics , a Signworld Affiliate, we can offer almost any type of marketing signage for your business or business project.
Small and home-based businesses need a competitive edge with a competitive price in order to help get their message out. Precision Sign and Graphics serving Riverside CA. and surrounding areas is ready, willing and able to put our experience to work for you. For years we have provided marketing minded graphics that are not only attractive but will help grab the attention of your potential customers as well. To back that up, we provide a wide range of services from banners and business cards to vehicle wraps and lobby signs to help get your message out even more.
Useful Links
For more information or to contact us for a Free Quote: CLICK HERE
To find the answers to some of our frequently asked questions: CLICK HERE