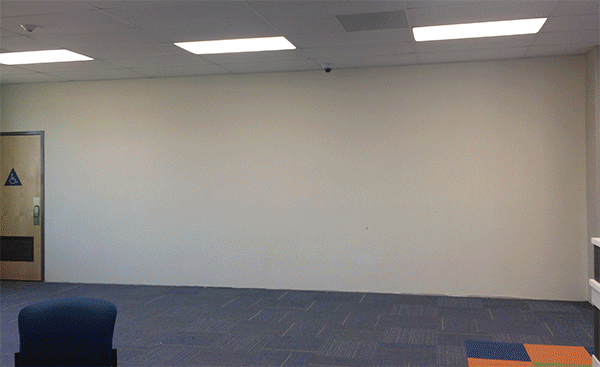 First impressions don't always have to equate to a dollar figure. Sometimes first impression can set the mood or tone of the conversation, make someone feel at ease or even confident that they're in the right place. Custom Printed Wallpaper can help in this effort. Custom printed wallpaper can be designed, printed and installed by Precision Sign and Graphics serving Riverside, CA. on commercial grade vinyl making a durable and long-lasting statement for your business.
Recently Jurupa Unified School District Parent Center chose to utilize custom printed wallpaper, but not to get the attention of a customer; but rather to provide a solid first impression for parents. Let's look at some of the steps that brought about this affordable custom vinyl wallpaper project.
Exuding Confidence
When Jurupa Unified School District Parent Center was looking for a way to make parents feel confident about their school their children were to be attending they considered a variety of things, cost being one of them. The "real estate" that was available was a large open wall that might hold some pictures or better yet a custom printed wallpaper that really sets the tone of a conversation.
The Jurupa Unified School District Parent Center is part of the Jurupa Valley Unified School District responsible to oversee the 25 area schools and educate roughly 20,500 students. This parent Center is just one step of the many positive things that the school district is doing to help bridge the gap between the school, the student and the parent partnering in the child's education.
The Printed Wallpaper Process
Step One: The Printed Wallpaper Design
When putting together a printed wallpaper design we look at many different factors such as: placement of the mural, the lighting in the room, foot traffic (durability), is it just an image or an image with a message. By providing examples to the Jurupa Unified School District Parent Center representative, we were able to identify the images, graphics and sizing needed to create the printed wallpaper to Jurupa Unified School District Parent Center's specifications.
Another consideration for a print job of this size is the use of high resolution, licensed images. You can't take a small image, downloaded from Google and print it on a wall without it being distorted. PLUS a professional, reputable sign company will always use quality, high resolution images that have been properly licensed for commercial use.
Naturally the final printed wallpaper design was approved by Jurupa Unified School District Parent Center prior to material selection and installation. They were also able to see a full color rendering of what the finished product was to look like before the installation began.
---
Precision Sign and Graphics in Riverside, CA.. is your local source for Printed wallpaper, Indoor Signs, Vehicle wraps and more.. Call us today! (951) 332-2700
---
Step Two: Custom Printed Wallpaper Materials Selection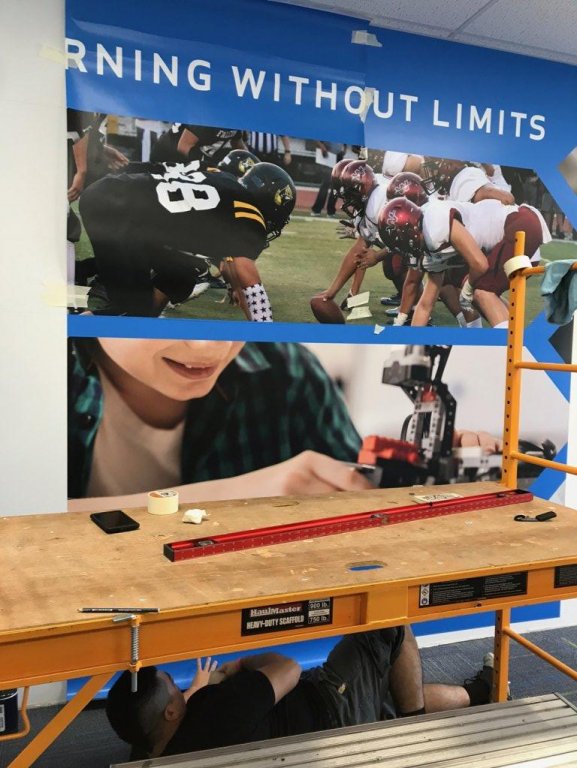 The custom printed wallpaper used by Precision Sign and Graphics serving Riverside, CA. is made from a thick, commercial grade 5 yr. 3M vinyl, laminated with 3M 8520 matte laminate that utilizes cured ink. This helps ensure the durability of the material, even in high-traffic and sunlight conditions.
Step 3: Custom Printed Wallpaper Installation
As part of the process for a Custom Printed Wallpaper installation, the installation crew will receive a design template (printout). Materials are preprinted on our HP3 Latex 360 large-format printer, cut, labeled (numbered) in the sequence of installation. When dealing with a large area for the printed wallpaper, this is where our installation crew really shines.
Many walls have seems, doors, thermostat controls, light switches and other protrusions that will need to be professionally handled in order for the final product to look perfect. The complete build took approximately two weeks from inception to installation.
Overall the school district was very satisfied featuring the printed wallpaper for their grand opening of the "new Parent center".
When Local Experience Counts
Precision Sign and Graphics is a locally owned and operated sign company that utilizes the latest technology, top industry graphic design talent and state-of-the-art equipment and materials to produce our the very best product available in the Riverside, CA. area (or anywhere else for that matter). We seek to build long-term relationships with our customers by treating every customer with respect, understanding the diversity of opinions and a partnering mindset desiring to see your business succeed. Call to let us quote your custom printed wallpaper today!
Useful Links
For more information or to contact us for a Free Quote: CLICK HERE
To find the answers to some of our frequently asked questions: CLICK HERE