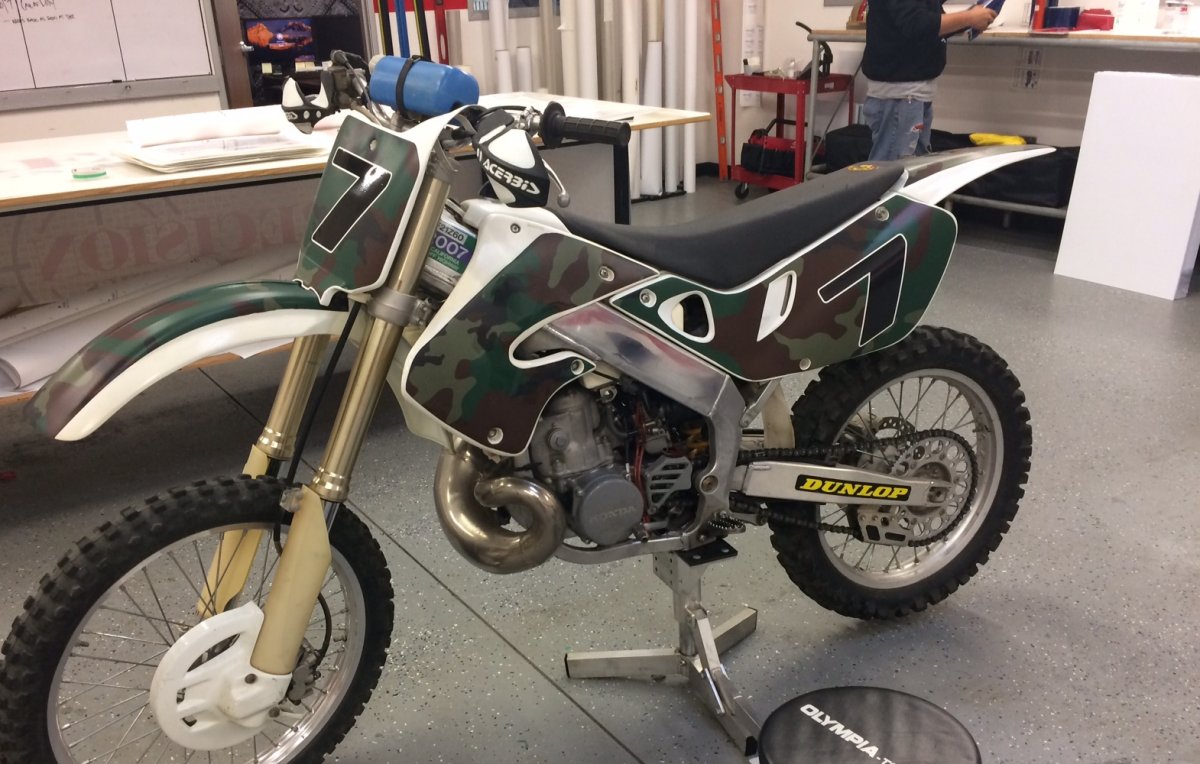 Sometimes as a business owner I have to take a few moments to reflect on the friends, colleagues and customers that the good Lord has placed in my path. Being successful in business should, at times, give us the encouragement and confidence to do the little extra; not as a mindset of profit but rather an appreciation for who and where we are in life. This was the opportunity that came when a good friend that owns West Coast Collision brought a vinyl wrap project to us here at Precision Sign and Graphics.
The task: Replace the number three with a number seven.
The opportunity: To make a young man's birthday something very special.
Simple Turned Special
The owner, and good friend of mine, from West Coast Collision has helped me out of a bind more times than I could've imagined. The other day he brought me a plain white dirtbike and ask if we could simply change the number three to a number seven. He explained that his secretary had purchased the motorcycle for her son as a birthday gift, something he is always wanted but she could never afford. After hearing this story we ask Mark, the owner of West Coast Collision, if we could do a little something more.
With a little chat we found out that his secretary's son was very much into camo and the Call of Duty, we use that to put a Precision Sign and Graphics special touch on the project.
Precision Sign and Graphics in Riverside, CA.. is your local source for Printed wallpaper, Indoor Signs, Vehicle wraps and more.. Call us today! (951) 332-2700
The Process
Step One: Vinyl Wrap Design
with the multiple segments and shapes of the motorcycle careful attention needed to be paid during the design so that installation would be a simple, step-by-step process. We chose the font, art and color schemes from our approved Sign elements art library website as to ensure a consistent and recognizable level of art.
Step Two: Vinyl Wrap Materials Selection
Based upon the overall wrap specifications identified in the design we chose Ij180CV3 with 8520 matte laminate that best suited the application; materials were carefully hand selected based on the need of durability for an off-road motorcycle. The vinyl wrap project was printed on our HP Latex 360 wide format printer.
Step 3: Vinyl Wrap Installation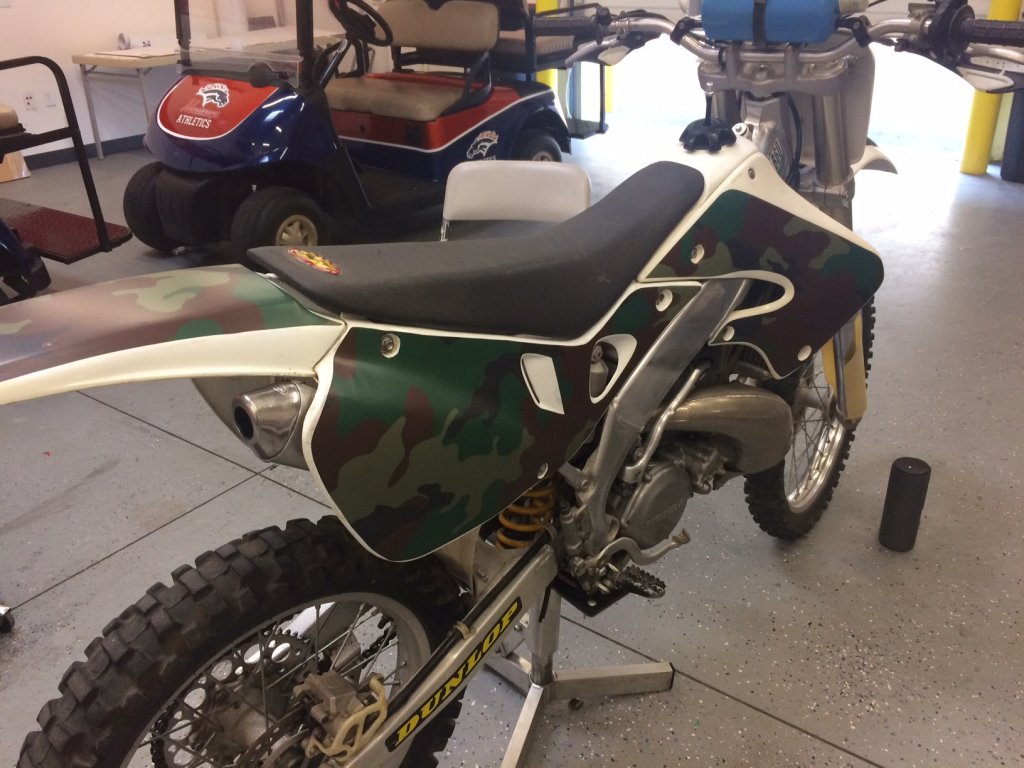 As part of a perfect installation, the installation crew will receive a design template (printout) that identifies the location points for the most important elements in the design, namely the largest photograph or design element with the logo.
These elements are positioned in place with the installation crew making sure to align these elements first, allowing any additional graphic elements to freely flow around the shape and complex curves. We used knifeless tape to work the vinyl and form the cutlines needed for this final wrap as the motorcycle utilized multiple shapes and surfaces.
Next the material is stretched as needed for the shape (much like you would see when you're stretching plastic wrap over the top of a glass bowl in your kitchen). Only this material is made to be long-lasting in the sun, super durable in the rain and able to be washed over and over again for years to come.
The end results was a very pleased and happy recipient of this unique motorcycle wrap. It is our hopes that the birthday boy enjoys his birthday present for many years to come.
When Local Experience Counts
Precision Sign and Graphics is a locally owned and operated sign company that utilizes the latest technology, top industry graphic design talent and state-of-the-art equipment and materials to produce our the very best product available in the Riverside, CA. area (or anywhere else for that matter). We seek to build long-term relationships with our customers by treating every customer with respect, understanding the diversity of opinions and a partnering mindset desiring to see your business succeed. Call to let us quote your custom printed wallpaper today!
Useful Links
For more information or to contact us for a Free Quote: CLICK HERE
To find the answers to some of our frequently asked questions: CLICK HERE