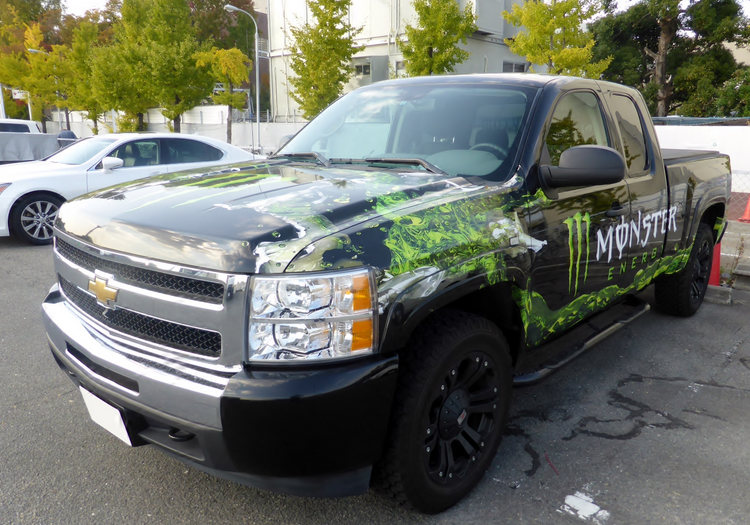 With vehicle wraps being such a popular, affordable and eye catching method for advertising in the Riverside CA area; many large companies have paid to have people wrap their vehicles for targeted advertising. You've seen them and wondered; would Red Bull, Coke-Cola and Nike really pay to wrap a 2005 Honda? Yes, they sure did!
But this is where the problem lies. Because of the popularity of these programs, dozens of Riverside CA residents (and hundreds all over the country) have been taken for thousands in an ongoing vehicle wrap scam!
Because Precision Sign and Graphics is the leading vehicle wrap specialist in the Riverside CA area, we want to give you some tips on how this scam works and how to avoid it.
Wanna Make Extra Money?
The phone rings and the operator will say "Our world-class partners such us Coca-Cola, Monster Energy, iPhone 6 and XS Energy will generously pay prospective clients just like you in the Riverside CA area to place their vehicle wrap on your car." This is where the scam comes into play, it makes sense because you've these vehicle wrapped cars driving around so… why not me?
The vehicle wrap offer sounds legit, they've said everything right. They even said you can peel the vehicle wrap off after a set term plus give you incentives for getting your friends in Riverside CA to have their vehicle wrapped too!
But beware, these people also post the same vehicle wrap offer on the Riverside CA Craigslist and social media to cast a wide net knowing not everyone will fall for it; but if they can get 1 out of 10… they've made money!
How Did I Get Targeted?
It wasn't a random call. They usually target those who place online applications for job searches, submit resumes' to online job postings, fill out forms for extra income ideas or fill out surveys where you were coupon shopping.
These People are Pro's
If you feel you can out smart them… don't bother; these people are pro's. This is just one of dozens of schemes they have perfected over the years in the Riverside CA area; and they know how to fool you. They people have websites, professional graphics, social media… they even have fake reviews from Riverside CA praising their services. So how do you protect yourself against pro's like this? Ask Momma!
Momma always said: "If it seems too good to be true…"
Know that major companies like Red Bull, Coca-Cola, Monster Energy, etc. don't just use anyone off the Riverside CA street to get a vehicle wrap to brand their image. The have an interview process and vehicle wrap standards that you must keep to maintain the contract. If you get targeted by one of these vehicle wrap scams; don't bother entertaining them or trying to play Columbo hoping to catch them… hang up!
Precision Sign and Graphics in Riverside, CA.. is your local source for Printed wallpaper, Indoor Signs, Vehicle wraps and more.. Call us today! (951) 332-2700
How Does the Vehicle Wrap Scam Work?
If you listen carefully you will hear the Red Flag words that so many scams like this use.
Red Flag words because these are usually people from overseas who are "attempting" to sound American. The Red Flag words are: Specialist, via money gram, wire transfer and the big one… kindly.
Everything they text or say will have an acknowledgement statement behind it. This is a designed strategy. They are looking for signs that you are not buying the vehicle wrap scam. So every statement will end with: Ok? Do you understand? When should I call you again?
Here are a couple of examples of the Scam
Example 1: "Kindly provide bank info. We deposit enough funds for your term, the amount needed to get the vehicle wrap and pay licensing fees. You then need to send money via money gram for licensing fees to the address provided. You keep the rest. OK?"
Example 2: "We send you a certified check from our marketing agency, enough to cover you term payment, vehicle wrap charge and licensing fees. Kindly wire transfer licensing fees to the address provided. You keep the rest. When can you do this?"
After you have wired the funds to pay for the licensing fees and/or the vehicle wrap to "their" vehicle wrap provider the funds are reversed from your bank account leaving you overdrawn!
(Note: everything will be "time sensitive", they will be bossy, demanding and even threatening! If you receive the check and don't deposit it they will hound you day and night, hack your computers, threaten your family… it can get really scary, really FAST!)
Who Falls for This Vehicle Wrap Scam?
You might read this and ask, who falls for this vehicle wrap scam? A lot of people in Riverside CA. and abroad do everyday. If this vehicle wrap scam didn't pay, they wouldn't do it. Like I said, these people are Pro's. They know just what to say to convince you, and before you know it, you've been scammed.
When Local Experience Counts
Precision Sign and Graphics is a locally owned and operated sign company that utilizes the latest technology, top industry graphic design talent and state-of-the-art equipment and materials to produce our the very best product available in the Riverside, CA. area (or anywhere else for that matter). We seek to build long-term relationships with our customers by treating every customer with respect, understanding the diversity of opinions and a partnering mindset desiring to see your business succeed. Call to let us quote your custom printed wallpaper today!
Useful Links
For more information or to contact us for a Free Quote: CLICK HERE
To find the answers to some of our frequently asked questions: CLICK HERE