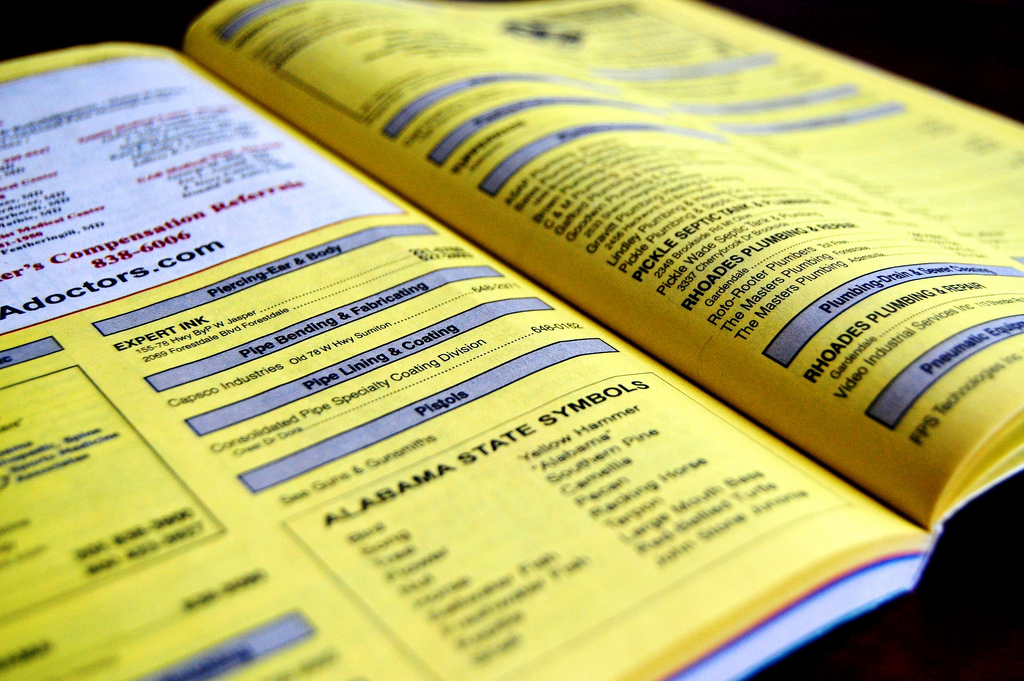 There was a time when we used devices called telephones, sent documents with something called a fax, listened to music on things called cassettes and looked up businesses in something called a phone book. Big hair and big ads was the name of the game and anybody who was anybody was listed in the Yellow Pages. But in this modern day of instantaneous information, do people still let their fingers do the walking in the Yellow Pages?
In this article we will look at the viability of a yellow page listing for your local Riverside, CA. business.
The Evolution of the Yellow Pages
It is true that at one time phonebooks in Riverside, CA. had a lock on the market for those looking to find local businesses. Options beyond that were newspaper, TV and radio as primary ways to get your message to the consumer in their home. However, the phonebook became the single medium that was literally in the home of practically every single resident in Riverside, CA..
As this process evolved more companies got into the mix leading to, at one time, upwards of 15 phonebook companies distributing different phonebooks throughout the year. This meant that a small business owner had to choose which phonebook they felt their customers would use the most so that it can properly focus its advertising dollars. Companies that had a large enough budget would list in each phonebook but that naturally meant, with the average cost of $4000 per book per year, that you could spend upwards of $60,000 + just to make sure that the name of your company was out there.
This then began the trend of company name manipulation: A+ plumbing, AA+ plumbing, AAA Plumbing and so on. Companies whose name letter was higher in the alphabet naturally received less calls as the statistical averages identified that 80% of calls were made from the A's. Leaving the other letters of the alphabet fighting over  leftovers.
This led to creating phonebook campaign ads and coupons bidding for coverage driving up the costs even higher!
Along Comes the Internet
The Internet started out as an interesting past time and way to send information, some even said that it would never really catch on; but as the Internet has evolved, it has retrained the consumer on how to process information. In doing so advertising mediums such as the phonebook and newspapers began to take a backseat to Google, yelp and Angie's list. Trying to keep itself relevant; the major name in phonebooks, "the Yellow Pages" rebranded itself to YP.com. Boasting that it still garners between $80 million and $100 million in digital sales per year, YP.com will probably stick around a little bit longer; but every day finds itself competing against the new kids on the block… Google; who has a bigger budget and a larger audience.
Call Precision Sign and Graphics today for Stunning Graphics at an affordable price! (951) 332-2700
So… Should I Invest in the Yellow Pages?
Small business marketing consultant, Rick Brewer, of Inventive Support Services states: "If your budget allows you to utilize multiple forms of advertising, the Yellow Pages should be one of them; however, if your budget only allows for a single advertising source… the Yellow Pages would not be a wise use of your advertising funds."
Quoting informational statistics based in Forbes Magazine about Yellow Pages lead generation:
Based upon your price point and return on investment (ROI) calculations, the average company would have to generate over 400 leads per year to break even with the cost of a Yellow Pages campaign. At the national return average of .05% to 1.5% means you would need to field 5,000 – 8,000 contacts to see an ROI. For those who have a higher price point the number balances out because the demand ratio changes as the price point (APPS) goes up.
The Conclusion of the Matter
Yellow Pages and YP.com are still valid forms of getting your message out to the general public, but no longer carry the market strength that they once did. If your marketing budget allows or your demographic is for an older age group, then adding Yellow Pages and YP.com is a good investment.
Doing what we do best
When trying to get your message inside the homes of residents in Riverside, CA.; phonebooks, newspapers, TV, radio and the Internet are all valid sources to consider. However, when they step out of their home… now there on our turf! Precision Sign and Graphics can help present your message loud and clear with our professionally designed and installed vehicle wraps, signs, banners and more. We can help brand your message to blend with your other forms of advertising to create a marketing image that will help your customer associate with your business within the community. Let our team professionals help you with getting the best bang for your buck when it comes to marketing and branding in the Riverside, CA. area.
Useful Links
For more information or to contact us for a Free Quote: CLICK HERE
To find the answers to some of our frequently asked questions: CLICK HERE