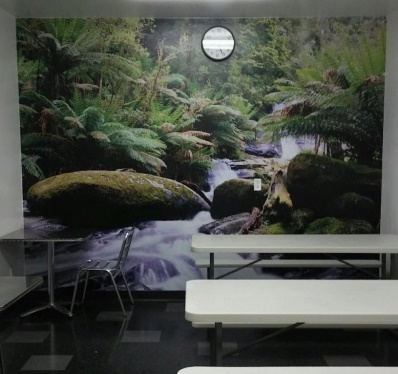 When looking to set the mood or tone of a room there are a lot of choices: lighting, decorations & music to name a few… but none of those really get that wow factor. Consider walking into a room that immerses you in the environment; this is where Custom Printed Wallpaper comes in.
Custom printed wallpaper can be designed, printed and installed by Precision Sign and Graphics serving Riverside, CA. on commercial grade vinyl making a durable and long-lasting statement for your business. Recently Purosil LLC chose to utilize custom printed wallpaper, but not to get the attention of a customer; but rather to provide a bit of respite for their employees.
Let's look at some of the steps that brought about this affordable custom vinyl wallpaper project.
Literally, a blank canvas
When Purosil LLC was looking for a more peaceful environment for their employee breakroom they considered a variety of things, cost being one of them. The "ah-ha moment" was choosing to use a large, calming mural scene for the breakroom wall. Next they went looking for a local company to design, create and install their custom printed wallpaper, they chose Precision Signs & Graphics. They looked closely at the craftsmanship and quality of the thick printed wallpaper materials that Precision has come to be known for in the Riverside, CA. area.
The perk for Purosil LLC was to be able to find a local company that offered small town prices and quality traditionally reserved for businesses in larger cities or in the national market. They recognize and appreciate the importance of using local companies and vendors whenever possible to help with the Riverside, CA. economy.
The Custom Printed Wallpaper Process
Step One: The Printed Wallpaper Design
One might think that creating a printed wallpaper design is as easy as finding a picture on Google and just printing it, and for some other sign company in the Riverside, CA. area; that might be exactly how they do it, but not here. When putting together a printed wallpaper design we look at many different factors such as: placement of the mural, the lighting in the room, foot traffic (durability), is it just an image or an image with a message.
By providing examples to Purosil LLC, we were able to identify the image, graphics and sizing needed to create the printed wallpaper to Purosil LLC's specifications. Another consideration for a print job of this size is the use of high resolution, licensed images. You can't take a small image, downloaded from Google and print it on a wall without it being distorted. PLUS a professional, reputable sign company will always use quality, high resolution images that have been properly licensed for commercial use.
Naturally the final printed wallpaper design was approved by Purosil LLC prior to material selection and installation. They were also able to see a full color rendering of what the finished product was to look like before the installation began.
Precision Sign and Graphics in Riverside, CA.. is your local source for Printed wallpaper, Indoor Signs, Vehicle wraps and more.. Call us today! (951) 332-2700
Step Two: Custom Printed Wallpaper Materials Selection
The custom printed wallpaper used by Precision Sign and Graphics serving the Riverside, CA. area is made from a thick, commercial grade vinyl that utilizes cured ink. This helps ensure the durability of the material, even in high-traffic and sunlight conditions. There are two main finishes that are utilized when choosing the right custom printed wallpaper: matte and satin.
Matte finish: A matte finish to your custom printed wallpaper is best when the mural is not in direct sunlight, but rather illuminated by ambient light sources. Track lighting, can lighting or standard room illumination allows for the colors of the printed wallpaper to be evenly viewed.
Satin finish: A satin finish looks best when there is no direct light. A satin finish can produce the "shimmer effect" because of the glossier finish. When a satin finished custom printed wallpaper is properly placed it adds a stunning visual effect and really makes the colors of the mural pop.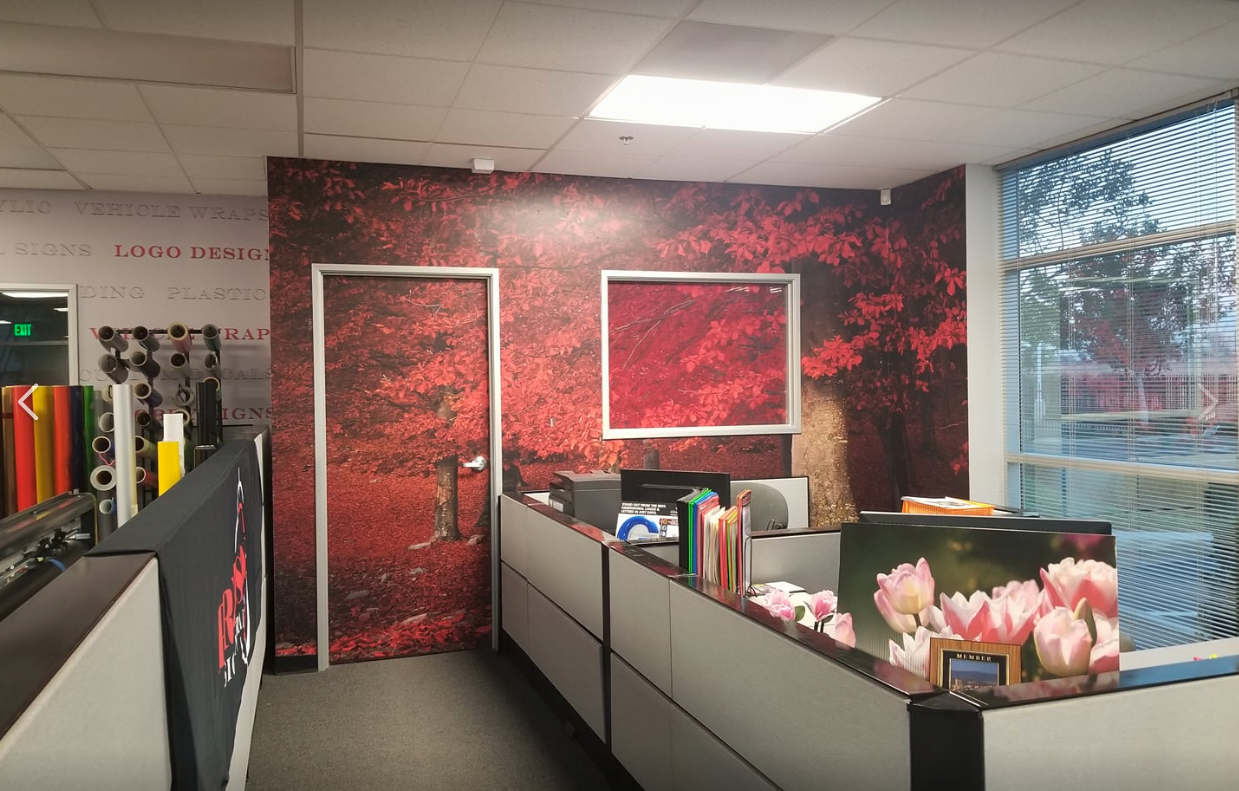 With each of these two options you can also choose some light texturing. Standard printed wallpaper covering is traditionally smooth to the touch. Combined with the durability of the vinyl this finish is easy to clean and is perfect for bisinesses in the Riverside, CA. area with high-traffic areas where it's being constantly touched. For a more elegant look and feel, a canvas texture can be used to make your printed wallpaper appear like a painted work of art.
Based upon the overall custom wallpaper design specifications we look for the proper 3M or Avery materials that will best suit the application with the desired finish and texture. Materials were carefully hand selected based on the long term mindset we seek to fulfill with our quality custom wallpaper installations.
Step 3: Custom Printed Wallpaper Installation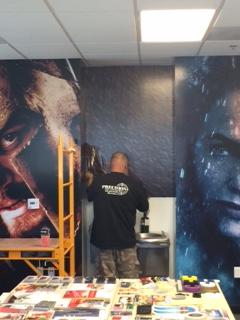 As part of the process for a Custom Printed Wallpaper installation, the installation crew will receive a design template (printout). Materials are preprinted on our HP3 Latex 360 large-format printer, cut, labeled (numbered) in the sequence of installation. When dealing with a large area for the printed wallpaper for businesses in the Riverside, CA. area, this is where our installation crew really shines.
Many walls have seams, doors, thermostat controls, light switches and other protrusions that will need to be professionally handled in order for the final product to look perfect.
When experience counts
Precision Sign and Graphics is a locally owned and operated sign company that utilizes the latest technology, top industry graphic design talent and state-of-the-art equipment and materials to produce our the very best product available in the Riverside, CA. area (or anywhere else for that matter).
We seek to build long-term relationships with our customers by treating every customer with respect, understanding the diversity of opinions and a partnering mindset desiring to see your business succeed. Call to let us quote your custom printed wallpaper today!
Useful Links
For more information or to contact us for a Free Quote: CLICK HERE
To find the answers to some of our frequently asked questions: CLICK HERE