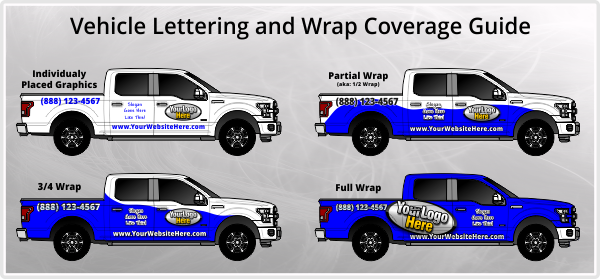 Vehicle graphics come in all shapes, sizes and types, just like vehicles! Whether you are looking to place vehicle graphics on your trailer, car, van or your entire vehicle fleet; vehicle vinyl graphics are a fantastic choice for any business in Riverside, CA.
When you combine creativity with versatility you have the two main components that help make vehicle graphics an affordable option, now it's just a matter of deciding which level of vehicle graphics will work best for your Riverside area business.
Depending on your budget and the look that you're going for, any level of vehicle vinyl graphics designed and installed by Precision Sign and Graphics is sure to help you stand out among the competition.
Let's look at the different levels of vehicle graphics that you might choose to get more information:
Customizable Based on Your Budget
Professional vehicle graphics, provided by Precision Sign and Graphics in Riverside, CA. can be customized to fit both the budget and the look you might be going for. We offer full vehicle wraps, partial vehicle wraps and vehicle lettering that, when combined with a particular color of vehicle, can be very noticeable.
Naturally a full vehicle wrap gives us the ability to work with practically any paint color (because we are covering it) not to mention a full canvas to create eye-catching graphics and colors that can help promote the brand and look of your company. When combined with a fleet wrap you can further increase the visibility of your company within the Riverside, CA area.
Partial vehicle wraps will utilize the color of the vehicle to blend the brand color schemed graphics. Because partial wraps are not covering the entire vehicle, this option less expensive than a full wrap.
Lastly would be vehicle lettering using diecut fonts and symbols/ logo that provide attention grabbing contrast and can offset the color of the vehicle to make it very attractive and noticeable change to any vehicle or fleet of vehicles
NOTE:
Most vinyl quotes in this industry are done by square footage. When visiting with the experts at Precision Sign and Graphics serving Riverside, CA., they will take measurements for what you need done, calculate that into a cost per square foot and price it out accordingly. Providing the service this way allows for pricing only what you need… rather than what you don't.
Full Vehicle Wraps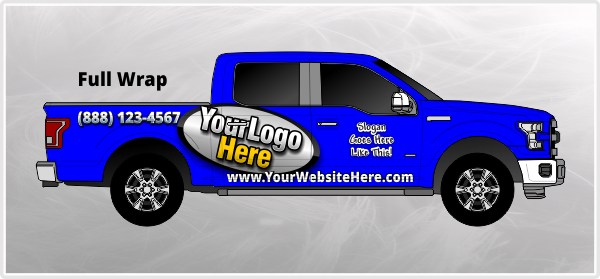 A full vehicle wrap is simply a full canvas that allows you to utilize any color of vehicle, covering it with vinyl printed material that is been specifically designed and colored to match the brand and presence that you're looking for. Full vehicle wraps have many advantages such as protection of the paint, more coverage for graphic design, resistance of paint fading and that overall wow factor with an exciting graphic design from Precision Sign and Graphics.
Utilizing the highest quality 3M or Avery materials we will seamlessly apply the full coverage graphics noting any contours or corrugations characteristic to the car, truck, van or, trailer. (We do boats too!) For full vehicle wraps that need to cover windows we have a particular material that allows you to keep the full wrap feel, but still able to see from the inside out. (Like tint)
Precision Sign and Graphics in Riverside, CA is your local source for Banners, Signs, Vehicle Wraps and more.. Call us today! (951) 332-2700
Partial Vehicle Wraps
Partial vehicle wraps are the middle ground between single colored lettering and a full vehicle wrap. Measured by coverage, this method allows you to have a larger impact; even combining a large full color graphic with single color lettering to really give a great impact that saves on the budget. This is a great option for those companies that have a more complicated logo requiring a full color print; but doesn't want to incorporate that into a full vehicle wrap. By using a large logo and adding phone numbers, website an additional contact information in single color lettering; it can help give you a look for your company, corporate or fleet vehicle that'll stand out… while saving on the budget.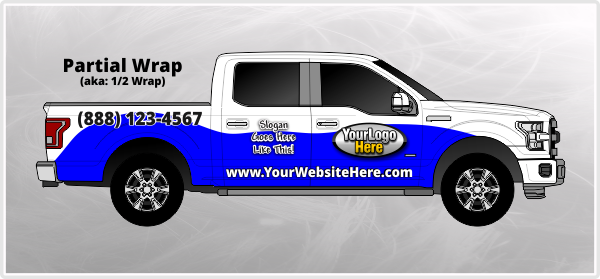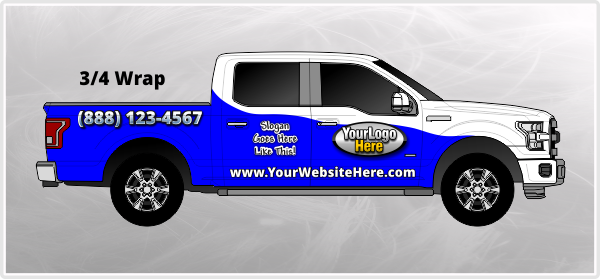 Single Colored Lettering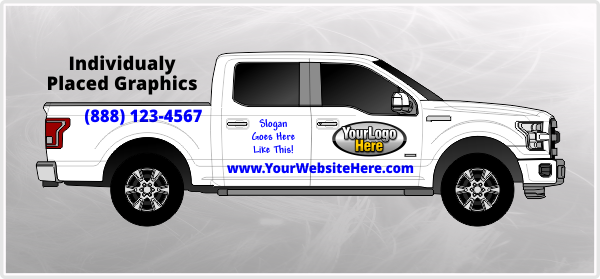 It is still a common practice today, for some applications, to just use single colored lettering and shapes for their vehicles. Graphics such as window treatments, phone numbers, license numbers and company names; may be all that the customer needs rather than a partial or full vehicle wrap. This is one of the areas where Precision Sign and Graphics serving Riverside, CA., really shines…
We have the equipment and talent to provide our customers with print jobs with just a few letters, letters and logo or more elaborate single decal placements. Done correctly, single color lettering and shapes can still make your vehicle stand out; while still being easy on the budget.
Trust the Industry Leader.
Precision Sign and Graphics serving Riverside, CA, has made the investment to have available the equipment and skill to provide our customers with the best quality of materials and craftsmanship. Starting with our graphic design department; we will work with you to provide you with a graphics impression of what your project will look like. Then, utilizing the best quality materials for the application, we will go to work transforming your company, corporate or fleet vehicle into that attention grabbing, billboard on wheels you are looking for.
Useful Links
For more information or to contact us for a Free Quote: CLICK HERE
To find the answers to some of our frequently asked questions: CLICK HERE