Sometimes landing a vehicle graphics project is just a matter of being in the right place at the right time; other times it is because you were hand selected because of your workmanship reputation; the latter was the case when we received a call from the "Transcend Creative Group" out of Deerborn Michigan.
Excited to be selected for this vehicle graphics project, we were contracted to produce and install a package of vehicle graphics for their advertising partner Maserati; let's look at some of the steps that brought about this exciting project.
Master Maserati Event
What brought about the need and the call from the Transcend Creative Group was because they had a need for vehicle graphic kits to be printed and installed on 11 brand-new Maserati's that were participating in the Master Maserati event at the Auto Club Speedway in Fontana California. The Transcend Creative Group is partnered with Maserati North America, providing support within several initiatives. From brand awareness with consumer ride and drives to brand and product training with Maserati dealerships across the country, they have helped Maserati craft and deliver exceptional training and consumer experiences.
When looking for a company to print and install their partial graphics for a fleet of 11 Maserati's they chose Precision Sign & Graphics. They considered carefully the craftsmanship, quality of vinyl graphics materials that Precision has come to be known for in the Riverside, CA.  area. As this partial graphics project was to be a branding point for their company and their relationship with Maserati, it was important that the quality of the partial graphics reflected the quality reputation that they have earned nationwide.
The Partial Graphics Process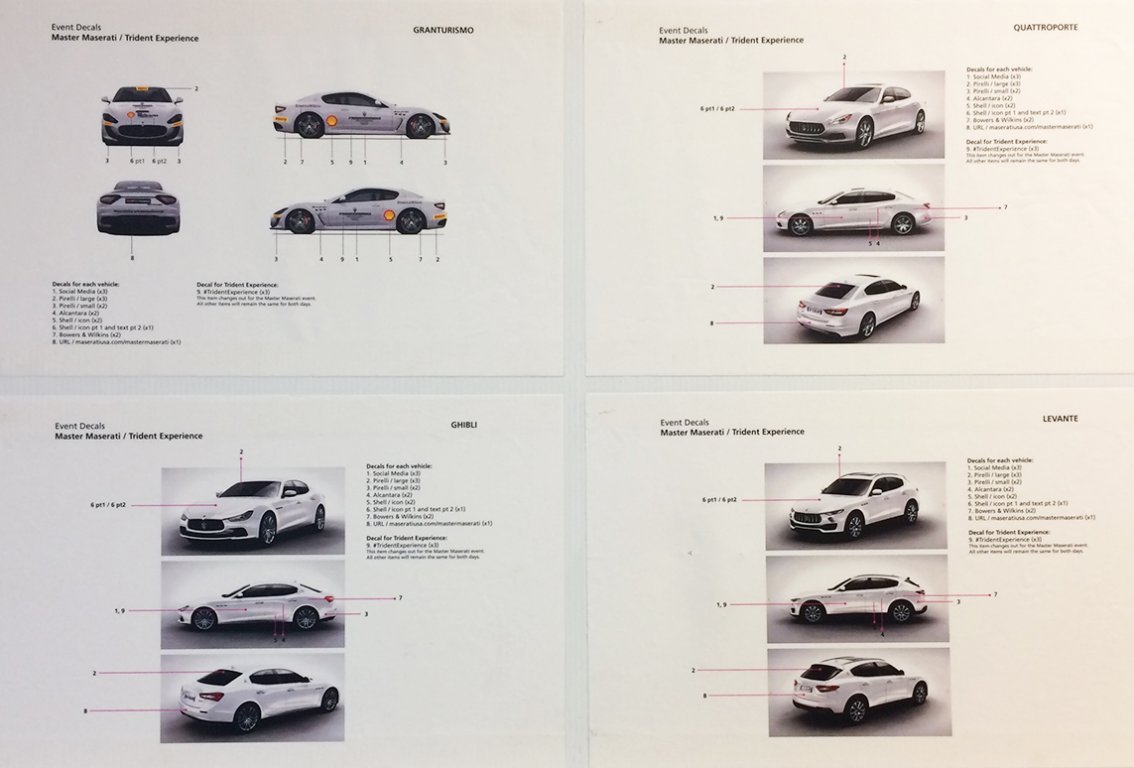 Step One: Partial Vehicle Graphics Design
While Precision Sign and Graphics has the full capability to utilize the talents of their in-house graphic design team, the designs for the approximately 19 different graphics were provided by the Transcend Creative Group. The vehicle graphics, supplied by the Transcend Creative Group, were a combination of print and cut vinyl decals, along with cut/masked decals.
Step Two: Partial Vehicle Graphics Materials Selection
Based upon the overall partial vehicle graphics specifications identified by the Transcend Creative Group we chose to utilize the high quality materials featured from 3M and Oracal. These quality vinyl materials allowed us to provide the look that the Transcend Creative Group was going for based upon their design and branding relationship with Maserati.
Precision Sign and Graphics in Riverside, CA.. is your local source for Vehicle magnets, Signs, Vehicle wraps and more.. Call us today! (951) 332-2700
Step 3: Partial Vehicle Graphics Installation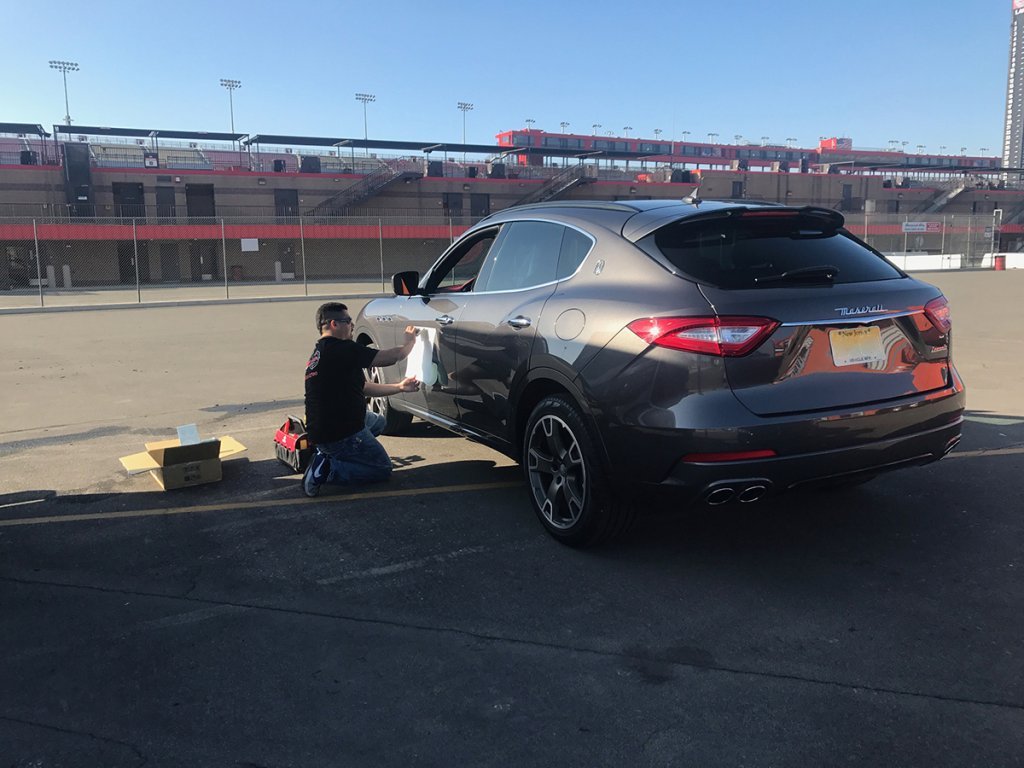 As part of the process for a partial vehicle graphics installation, the installation crew will receive a design template (printout) that identifies the location points for the most important elements in the design, namely the largest photograph or design element and any logos, phone numbers, websites or slogans.
Materials are preprinted, cut, labeled (numbered) in the sequence of installation. These pieces are positioned in place while making sure to align these elements first, allowing any additional graphic elements to freely flow around the vehicle shape and complex curves. Because on many partial vehicle graphics installations the design attempts to avoid curved areas, the installation can be pretty straightforward.
The day the installation started out with the 11 brand-new Maserati's being unloaded from three orange semitruck's. Next the 11 Maserati's were immaculately detailed and presented to Precision Sign and Graphics to install the print and graphics packs for each. Our professional crew of 3 installers took approximately 7 hours to apply approximately 19 different graphics to each of the 11 Maserati's on-site.
Because of the nature of these elegant Maserati's being so well handled by our installers, we naturally drew a crowd. As many watched our "Precision Pit Crew" at the Auto Club Speedway in Fontana California we caught the attention of additional professional organizations associated with NASCAR.
These professionals were Detail 2 U, an authorized dealer for NASCAR and Tony Montano, the senior manager of art and design for the Auto Club Speedway. We are looking forward to working with each of these professionals in the near future, as well as, many other excellent organizations that we were able to meet and show the quality workmanship provided by Precision Sign and Graphics.
When Experience Counts
Precision Sign and Graphics is a locally owned and operated sign company that utilizes the latest technology, top industry graphic design talent and state-of-the-art equipment and materials to produce our the very best product available in the Riverside, CA. area (or anywhere else for that matter). We seek to build long-term relationships with our customers by treating every customer with respect, understanding the diversity of opinions and a partnering mindset desiring to see your business succeed. Call to let us quote your partial vehicle graphics today!
Useful Links
For more information or to contact us for a Free Quote: CLICK HERE
To find the answers to some of our frequently asked questions: CLICK HERE