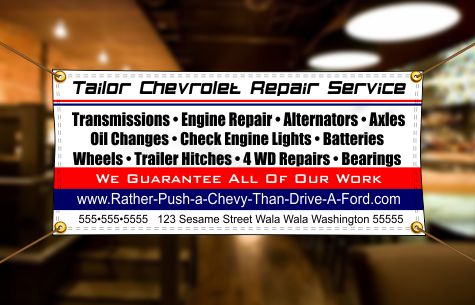 One of the common mistakes that we often see here at Precision Sign and Graphics in Riverside, CA. is when someone creating a vinyl banner wants to put their entire life story on a 3 x 6 banner. While one might think that this saves money because you're putting more words on a single banner and actually can cost you money, because if you have a banner that so cluttered with text that it's not easily seen… What good is it? In this useful article from Precision Sign and Graphics in Riverside, CA. we will look at some simple tips to make your vinyl banner stand out!
Simple is better
Vinyl banners are often used on the side of the road or the front of the building to present a temporary advertisement of something that's happening within a short distance of where the vinyl banner in Riverside, CA. is positioned. Keep in mind that with a vinyl banner, in most cases, you only have a few seconds to express what you want to say. If you have a lot of text, that means that the text needs to be smaller so everything can fit; it also makes the vinyl banner more difficult to read at a distance or quickly. At Precision Sign and Graphics we recommend for roadside and building banners in Riverside, CA. that you keep the message short and simple: Grand Opening, Sale Today, 50% Off Shoes, etc.. Utilizing short and simple messages will help keep your banner readable at a distance and at a glance for a vehicle driving down the road.
Precision Sign and Graphics in Riverside, CA. is your local source for Vinyl Banners, Signs, Vehicle wraps and more.. Call us today! (951) 332-2700
Attention Grabbing Colors
Again, Precision Sign and Graphics in Riverside, CA. Recommends to keep it simple. Having a lot of graphics can detract from the message that you're trying to convey with your vinyl banner. While on a computer screen it may be a work of art, on the side of the road it's unreadable. Remember a banner traditionally has two seconds for the mind to understand what the banner says or is about so keeping a simple presentation can be more effective with this understanding. Often times effective banners are the ones that use simpler offset colors such is green with yellow or black with white, while we agree that this is boring it is also very readable. The graphic design artists at Precision Sign and Graphics in Riverside, CA. I have perfected the art of balance when it comes to graphics and text to make a vinyl banner that is not only graphically appealing and noticeable, but readable.
Note: Advertisements such as banners, flyers and billboards that utilize yellow and red color are much more likely to be noticed than those that blend to their background. It is been proven that yellow and red are colors that alert the mind and draw attention to the advertisement. Other bright colors have a similar effect but not as responsive as yellow and red. Keep this in mind when selecting the colors that you want to use for your vinyl banner.
The Exception to the Rule
So when can I have an elaborate vinyl banner? The simple answer is somewhere that someone has more time to process the information. An example might be a static display at a tradeshow, street vending or team support vinyl banners at ballfields and tailgating. Be sure to mention how you want to use your vinyl banner when ordering from Precision Sign and Graphics in Riverside, CA. So our support team can advise on best practices for the design of your vinyl banner.
Useful Links
For more information or to contact us for a Free Quote: CLICK HERE
To find the answers to some of our frequently asked questions: CLICK HERE