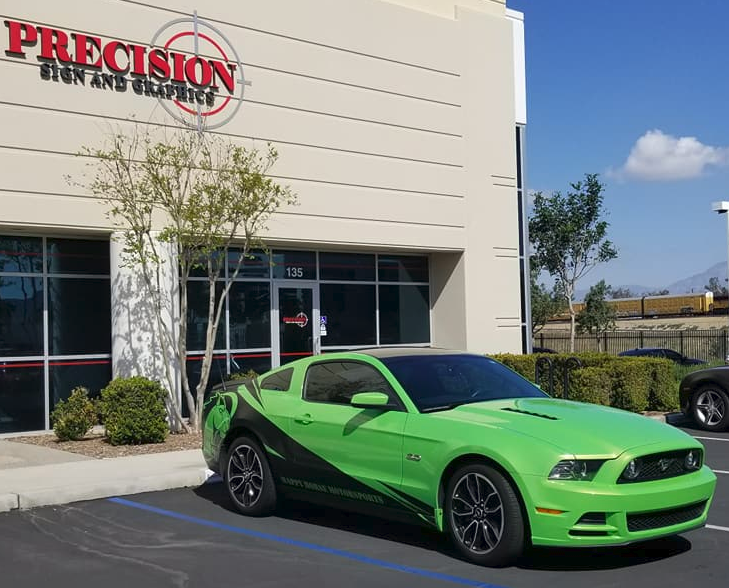 Vehicle wraps in Riverside, CA. are quickly becoming an industry standard for both advertising and dressing up your vehicle. From RAV4's to race cars vinyl vehicle wraps provide the versatility of attention grabbing graphics without the price tag of a custom paint job, plus the benefit of being able to peel it off when you're ready to sell the car.
Because of the popularity of vinyl vehicle wraps in Riverside, CA. many questions are often asked about vinyl vehicle wraps; so were going to answer a few of the frequently asked questions that are common about vehicle wrap:
What is a vehicle wrap?
Precision Sign and Graphics in Riverside, CA. Defines a vehicle wrap in the following ways:
A vehicle wrap is the explosion of imagination that has impacted a vehicle, dripping creativity down the sides…

A vehicle wrap is a blank canvas that allows you to brand your business in an eye catching, thought-provoking format that is sure to get attention and an occasional whistle…

A vehicle wrap is like a warm hug on a cool day that whispers in your ear how awesome you are.
Seriously though, a vehicle wrap can either partially or totally cover the paint of your vehicle for the promotion of your business, provide an aggressive graphics package for a custom vehicle look or even just change the color of the vehicle.
How long will my vehicle wrap last?
Vehicle wraps done by Precision Sign and Graphics in Riverside, CA. will last approximately five years. The type of material used, use and care play heavily into this estimated figure. For example: if you have an off-road vehicle that's been wrapped, chances are it's not going to last for five years because of dirt and debris constantly impacting the vehicle wrap. Normal use with the UV coded materials, that we prefer to use for our vehicle wraps, will naturally last longer than untreated vehicle wraps.
If I sell my car can I remove the vehicle wrap?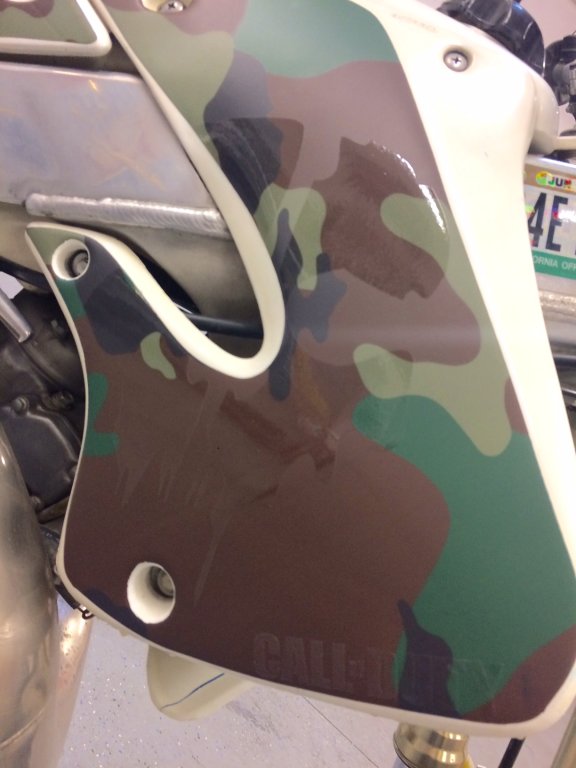 Absolutely. Although we do recommend to have it professionally removed; a vehicle wrap essentially is a heated sticker that molds to the shape of the body of the car… but it sticks good! So if you try to remove the vinyl vehicle wrap from your car, chances are without the proper removal tools and chemicals, it will be a time-consuming and messy task.
Can you wrap a car that is just painted primer?
This is a great question. Unfortunately primer is a porous in nature and the vinyl wrap does not adhere well to it. Untreated or unpainted body components such as ground effects, bumpers and other plastic parts also do not work well with vinyl vehicle wraps. While it will stick for a little while and look great, it won't be very long before the vinyl wrap fails and begins to come off.
How long does it take to install my vehicle wrap?
Partial vehicle wraps can be completed in 2 to 3 days depending on the complexity; full vehicle wraps can take up to two weeks, again depending on the complexity. Add to that design time to create the vehicle wrap custom to your vehicle year, make and model. That being said: Precision Sign and Graphics in Riverside, CA. has done quite a few vehicle wraps and can generally tell you how long it will take during the initial consultation.
What happens if I get into a wreck?
Hopefully you are okay and it was just a little fender bender… But once you get your car out of the body shop and the body panels have been replaced and properly painted, we can replace the areas of the vehicle wrap that were damage by replicating and installing with no problem. We keep on file the graphics that we provided for your vehicle wrap so we can duplicate and install just the pieces that are needed. For larger paneled areas such as the side of a moving van, the entire area will have to be redone so that it blends and matches properly. As a vehicle vinyl wrap is aged by the sun the colors can take on a different shade; we will let you know prior to beginning about color differences so that you can decide how you would like to proceed.
Call Precision Sign and Graphics today for Stunning Graphics at an affordable price! (951) 332-2700
Do the images on my vehicle wrap need to be licensed?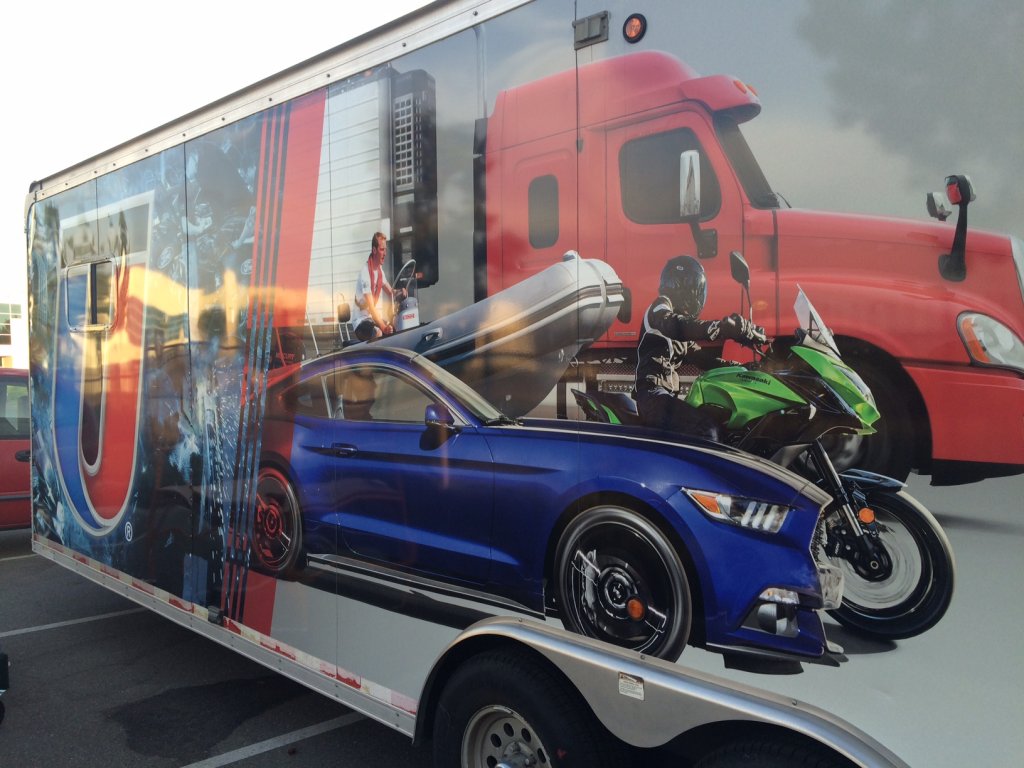 Vehicle wraps done by Precision Sign and Graphics in Riverside, CA. will always be too legit to quit.. (sorry 80's flashback).. Simply meaning that we purchase the appropriate licenses for all the graphics that we utilize in the creation of your vehicle vinyl wrap. (factored in the price) We reserve the right to deny service to those that wish us to utilize unlicensed or illegally obtained downloads of copyrighted material.
How do I keep my vehicle wrap clean?
General washing using the same automotive soap that you would to wash the rest of your car is perfectly fine for general care of your vehicle wrap. For most of the laminated wrap materials that we utilize here at Precision Sign and Graphics in Riverside, CA. you can even apply and wax and spray wax to help protect the vehicle wrap and keep it looking good. Certain types of vehicle wrap materials, such as carbon fiber print, are porous and therefore the use of waxes can dull the appearance. Be sure to check with us on proper care techniques based upon the materials used.
Will a vehicle wrap protect my paint?
Yes. UV coated vinyl wrap can help protect your paint from sun damage and small rocks that might ship your paint. However, vinyl wrap is not armor; so getting hit with a rock or by another car, vinyl wrap is not going to protect you in circumstances such as this.
Are there any legal restrictions for my vehicle wrap?
Other than copyright restrictions there are no current local restrictions that we have been made aware of in the Riverside, CA. area. While the government loves making new rules, we do have certain recommendations about the use of shiny chrome films and other designs that may create a hazard to those on the road. We have heard hints of regulations limiting the percentage of coverage that is allowed for certain types of vehicles and restrictions on content (ergo: family-friendly), but none that have been made an official policy.
Why are there so many price differences on vehicle wraps?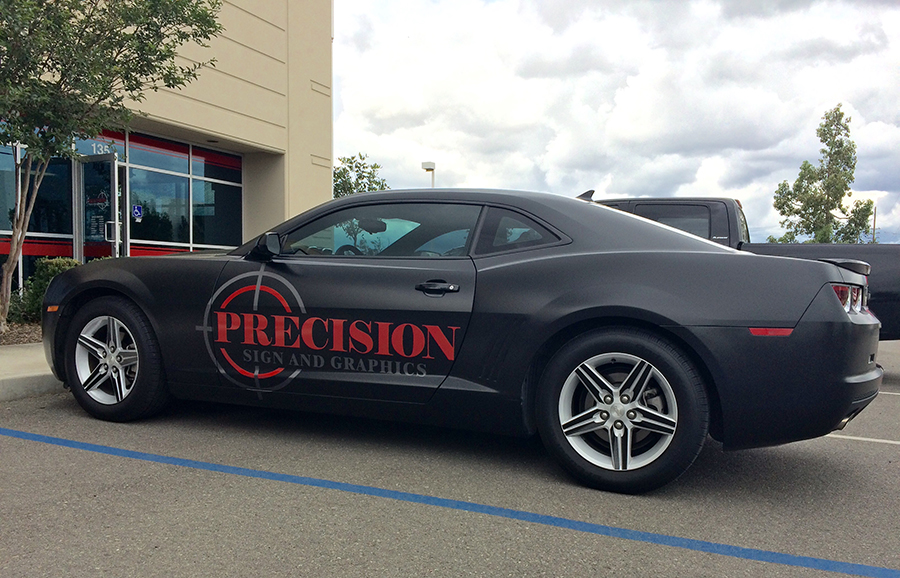 While vinyl wrap is quickly becoming an industry-standard there are still many factors that come into play for the pricing of vinyl vehicle wraps. Labor and materials used are the two primary factors for accurate pricing of a vehicle vinyl wrap. One company may be cheaper than another; but, look closely at the price differences to find out why. If a price for a vinyl wrap seems too good to be true, it probably is.
Many companies are known to underbid a vehicle vinyl wrap project because of the use of substandard materials or premade graphical elements that cut down on the creation process but provide you a cookie-cutter look. Correctly installing vinyl wrap is practically an art form. It takes a steady hand and a sense of craftsmanship to get the material to probably mold and fit, especially on vehicles that have greater curvature.
For an investment that sure to last you for several years you should definitely take a few extra moments to determine the experience level and quality workmanship of the company that you're going to use before making your final decision.
When Experience Counts
Precision Sign and Graphics in Riverside, CA. has been become well-known for its quality vehicle wraps and graphics. Just a look through our gallery will show a variety of vehicle wraps on all different types of cars, trucks, SUVs and commercial equipment including trailers. Our experience and diversity allows us to wrap vehicles with a high quality material at a reasonable price. Be sure to check with our sales representatives to get your vehicle wrap started today.
Useful Links
For more information or to contact us for a Free Quote: CLICK HERE
To find the answers to some of our frequently asked questions: CLICK HERE