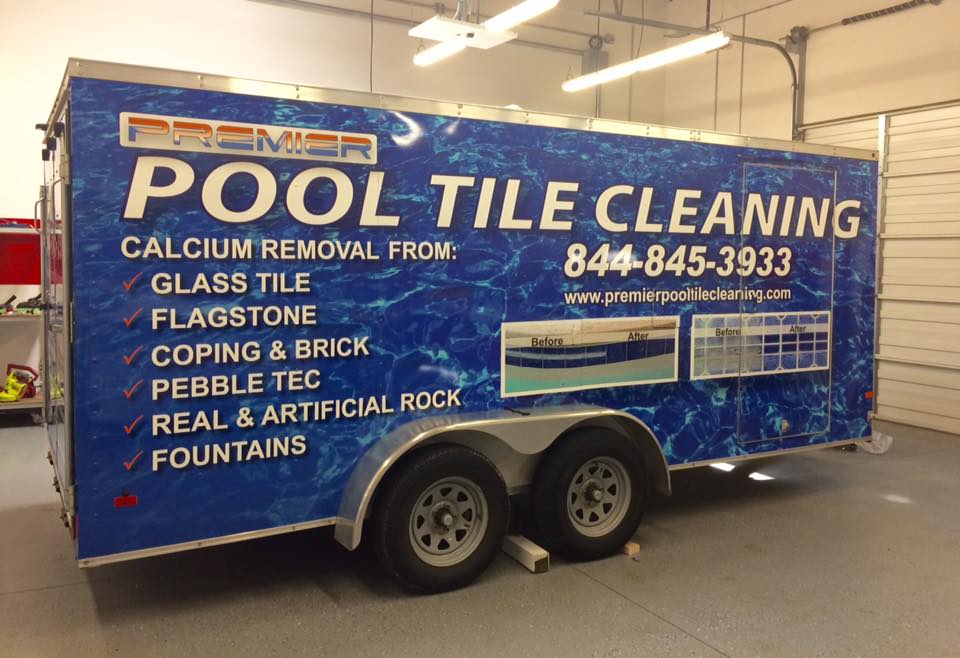 Custom trailer wraps come in all types, shapes and sizes making them a perfect choice for most businesses in Riverside, CA. Because the first impression of your business is so important, having a professionally designed, crafted and installed custom trailer wrap is an important choice; so make it a good one. Recently the Premier Pool Tile Cleaning Company serving Riverside, CA. and surrounding areas chose Precision Signs & Graphics for their custom trailer wrap for their trailers; let's look at some of the steps that led to this eye-catching project.
A Choice Made by More Than Just Price
The choice that Premier Pool Tile Cleaning Company, serving Riverside, CA. and surrounding areas, made to utilize the services of Precision Signs & Graphics for their custom trailer wrap was not based upon just price. They looked at the craftsmanship, quality of wrap materials and our reputation of high business standards as determining factors when choosing a company for their custom trailer wrap. As this project was to be a focal point for their business, it was important that the final product reflected their branding, as well as the quality reputation that they have earned within the community.
The Process
Step One: Trailer Wrap Design
With the mindset that your custom trailer wrap will most likely be one of the first impressions that customers will see (whether it be in Riverside, CA, or elsewhere), particular attention must be paid during the initial consultation and design. Because of our vast experience in the Trailer wrap industry, we were able to quickly identify the fonts, colors, graphics and sizing needed to create the custom trailer wrap to the Premier Pool Tile Cleaning Company's specifications. Utilizing some additional resources such as their print media and website we crafted a design that accentuated the branded look that followed along with their creative marketing.
Naturally, the final trailer wrap design was approved by Premier Pool Tile Cleaning Company prior to material selection and installation, so there was no doubts on their part whether the finished product would look good or not. They were also able to see a rendering of what the finished product was to look like before the first inch of material was printed.
Precision Sign and Graphics in Riverside, CA.. is your local source for Vehicle magnets, Signs, Vehicle wraps and more.. Call us today! (951) 332-2700
Step Two: Trailer Wrap Materials Selection
Based upon the overall trailer wrap specifications identified in the design we look for the proper 3M or Avery materials that will best suit the application; materials were carefully hand selected based on the long term mindset we seek to fulfill with our quality trailer wraps. When choosing the correct 3M or Avery vinyl wrap material we look at the following factors:
Some vinyl films allow graphics to be applied where deep contours and corrugations are found (typical on trailer models with recessed areas and performance cars that have a lot of flair). Other types of films are selected because the application needs, for example whether the application will be for a short or long-term needs. These removable films are great for fleet and trailer graphics; its versatility also works well with interior and exterior signs.
When it comes to window applications, we use a vinyl where the ability to look thru the material is needed. Typically, from the inside looking out, this is perfect for those trailer wraps that require the design to cover the windows where it's necessary or required that the person inside the trailer be able to easily see out through the printed vinyl. This material also works great for storefront window applications as well.
Step 3: Trailer Wrap Installation
As part of a perfect installation, the installation crew will receive a design template (printout) that identifies the location points for the most important elements in the design, namely the largest photograph or design element and any logos, phone numbers, websites or slogans. These elements are positioned in place with the installation crew making sure to align these elements first, allowing any additional graphic elements to freely flow around the trailer shape and complex curves.
Next the material is stretched as needed for the shape (much like you would see when you're stretching plastic wrap over the top of a glass bowl in your kitchen). Only this material is made to be long-lasting in the sun, super durable in the rain and able to be washed over and over again for years to come.
The entire wrap process can be done within 1 to 2 days of installation; if needed, the wrap can be scheduled as to work within the downtime of your trailer. Obviously, we prefer longer periods of time, as we can get very busy with a queue of waiting trailer wraps that accumulate.
A Process to Perfection
Precision Sign and Graphics is a locally owned and operated sign company that utilizes the latest technology, top industry graphic design talent and state-of-the-art equipment and materials to produce our the very best product available in the Riverside, CA. area (or anywhere else for that matter). We seek to build long-term relationships with our customers by treating every customer with respect, understanding the diversity of opinions and a partnering mindset desiring to see your business succeed. Call to let us quote your custom trailer wrap today!
Useful Links
For more information or to contact us for a Free Quote: CLICK HERE
To find the answers to some of our frequently asked questions: CLICK HERE